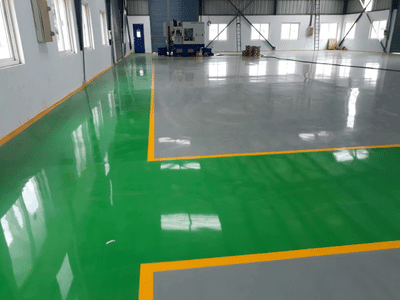 Epoxy flooring services
"What is Epoxy Flooring in Qatar?"
The most straightforward definition of epoxy flooring suggests a flooring surface that comprises multiple layers of epoxy that is applied to a floor with a depth of at least two millimeters. Confusion typically arises when comparing an epoxy floor and epoxy floor coating. The difference between the two lies in the depth of the epoxy - as stated, epoxy floors are classified as an epoxy coating of at least two millimeters thick. Any epoxy floor less than two millimeters thick is commonly referred to as an epoxy floor coating.
Self-Leveling Epoxy Floors: self-leveling epoxy is utilized to apply over new, old, cracked, or damaged concrete floors to create a smooth, durable, and a leveled texture on the surface of the floor. Self-leveling epoxy floors not only provide a shiny, seamless look but it comes in many different colors that appeal to commercial, industrial, and residential spaces.
Where To Use Self-Leveling Epoxy Floors: manufacturing buildings, warehouses, showrooms, commercial garages, kitchens, athletic facilities, and more.
Epoxy Mortar Floors: This flooring option classifies as the most stringent epoxy floor system available for use. This epoxy floor is made up of 100% solid epoxies and graded or quartz sand. Mortar systems are ideal for spaces that require a floor that is highly chemically-resistant and can withstand a great deal of impact. This epoxy floor can be used to repair cracks before applying another type of epoxy floor.
Where to Use Quartz-Filled Epoxy Floors: locker rooms, restrooms, schools, cafeterias, lobbies, offices, showrooms, and more. Anti-Static Epoxy Floors (Electro-static charge (ESD) Resistant Floors): ESD can be hazardous to many work environments. To reduce any static hazards in your spaces, anti-static epoxy floors can be applied. This epoxy floor typically holds a conductive compound that accumulates static electricity that dissipates any potential discharge. An anti-static solution is a highly recommended epoxy floor for spaces that contain flammable materials.
Where to Use Anti-Static Epoxy Floors: electronic, chemical, or pharmaceutical manufacturing facilities, healthcare facilities, or any spaces that use flammable gases or liquids that bring a risk of combustible dust buildup. Epoxy Flake Floors: This type of epoxy floor contains colored flake materials that are inserted in the epoxy to create a vibrant, multi-hued look. The flakes not only offer a seamless look but also provides each surface with subtle grooves to reduce any slips and falls. Epoxy flake floors come in an infinite variety of sizes, colors, styles, and textures that is customizable for any space.